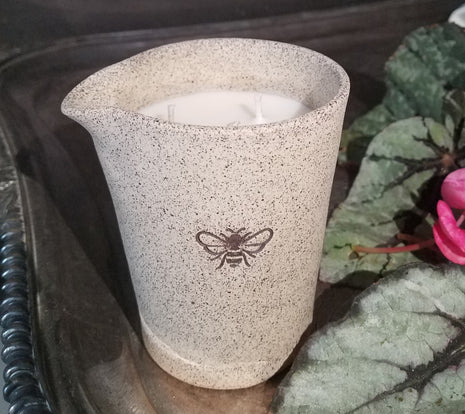 Bee Illuminated Lotion Candle
Lotion Candle in a Stoneware Decanter
It's not just a candle, it's a warm silky lotion! Our lotion candles come in a handmade stoneware decanter and emit a soft illuminating glow with a soothing aroma. The pour spout of the decanter makes it easy to dispense the rich warm oil into your hand. Apply lavishly for relief from dry, chapped skin.
Rich in vitamins A, E and F, this lotion leaves the skin feeling soft, nourished, and rejuvenated. Prevents and repairs cracking and splitting of skin around fingernails. The handcrafted stoneware decanter is dishwasher safe and can be re-used.
Lotion candle refills are available. 
Once opened, this item may not be returned.
225 mL