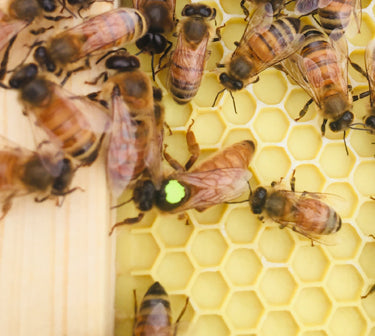 Queen Bees
ORDER NOW FOR 2024 BEE SEASON
Every package and nuc you order comes with a Queen bee. Queens can live up to three to five years but may need to be replaced for a variety of reasons. These reasons could include poor performance associated with age, unexpected death, diminished pheromones, decreased egg laying abilities. Let us help you keep your hive strong and productive!
Our Italian Queen bees are available from April through May. They come marked or unmarked, and can be picked up at the store, or shipped UPS. Live bees can only be shipped inside the contiguous United States.
We recommend that you select UPS for shipping. When you place your order for a Queen, it will ship as soon as it is available per your order date. We only ship Queens Monday, Tuesday and Wednesday. We will overnight them on Thursday for Friday delivery. You can pick them up at the store during normal store hours.
Queens ship out on the Tuesday of the week you select. For customer pick up, you can get them Tuesday afternoon of the week you select.
I agree to the Terms and Conditions