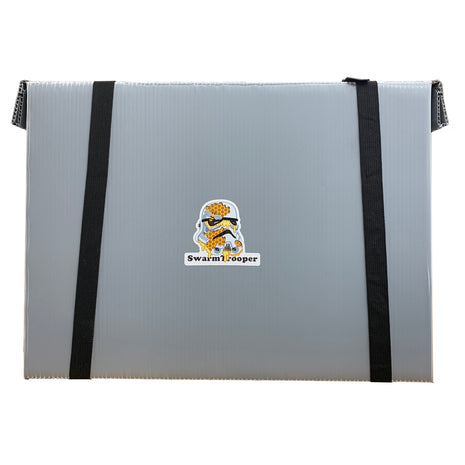 Swarm Trooper
A new twist on an old issue: collecting swarms! The Swarm Trooper is 20" long, 14" tall and 9-1/2" wide and only weighs three pounds! Made from durable 4mm Coroplast, it includes molded plastic frame rests, two entrance doors, and holds six Langstroth deep or medium frames. The frame rests have locators to prevent frames from shifting during transportation. There is a rotatable ventilation disc and the feeder hole in top may be punched out to accepts a feeder jar directly. Accessory feeder hole plug is available to plug the hole for future use.

Great for catching swarms in any location. Sturdy enough to hold six frames and bees, yet light enough to set up in a tree.

Frames, swarm lure and/or swarm spray are not included.

The Swarm Trooper comes unassembled, but included instructions and this link will show you how to assemble it.
Made in the USA.