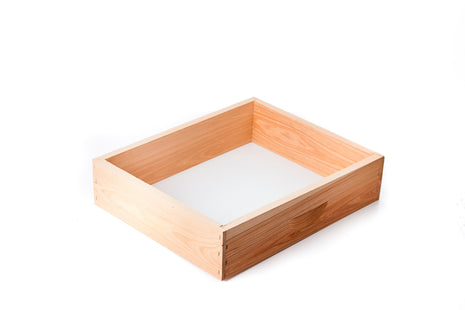 Ten-Frame Super
Our supers are made of Cypress, which has long been celebrated for its longevity, as well as its resistance to termites and water. These qualities make Cypress the ideal component for beekeeping equipment -- that's why we use Cypress in our apiary. With no need to paint or waterproof, you can leave your Cypress hives untreated, allowing them to breathe better and eliminate extra moisture without fear of rotting. You can find hive equipment cheaper than ours, but you get what you pay for. An investment in Cypress gives you the confidence that your equipment will last for many years...long after other woods would have rotted away.
The wood comes in two grades: select (contains no knots) and commercial (contains solid knots).
Select frame size, wood style, and unassembled or assembled.
If you select "assembled," please note that it will take 2-3 days to assemble before item ships.
Select grade material contains no knots. Commercial grade material contains solid knots.