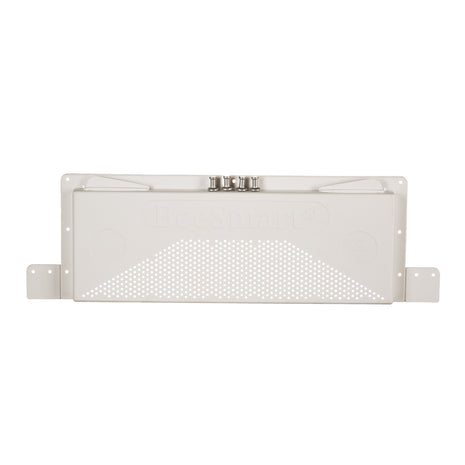 Ultimate Robbing Screen
The Ultimate Robbing Screen is an Integrated Pest Management piece from Bee Smart Designs. Some of its highlighted features:
• Eliminates robbing and drifting.
• Helps prevent transmission of mites, part of an IPM plan.
• Prevents mite re-infection of treated hives.
• Prevents bees picking up mites from crashing hives.
• Prevents varroa bombs from infecting other hives.
• Part of an apiary IPM program.
• Works with 8-frame or 10-frame equipment; removable sides.
• Fits conventional bottom boards and Ultimate IPM Bottom Board.
• Includes pins to fit Ultimate Bottom Board or act as bottom vent on conventional bottom boards
• 2 independent entrances with separate gates to eliminate robbing.
• Easy to grip gates latch 'Open' or 'Closed'.
• Easy installation; no tools needed.
• Molded ventilation screen controls hive odors.
• Optional strap for simple, fast mounting
• Proudly 'Made in USA'.