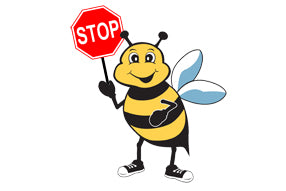 As August turns into September, you want to keep an eye on your hives and make sure that varroa mites and small hive beetles don't invade your hives. Stock up now on your favorite health products and beetle control items. Our Pigeon Mountain Brand
TM
 items that help combat these hive intruders include 
Cool Weather Beetle and Mite Paste
, 
Feeding Supplement with Essential Oils
, 
Beetle Ciudads
, 
Beetle Haciendas
 and 
Beetle Cabanas
. Descriptions of all of these items can be found on our website.
Other available products go on the hive, in the hive, or around the hive! Some require additives, like vegetable oil or water, while others are self-contained traps. 
Apistan
, 
Apiguard
, 
Check Mite
 and 
Gardstar
 are effective chemical treatments. The 
Smalll Hive Beetle Trap
, 
Beetle Blaster
, 
Beetle Barn
 and 
Freeman Beetle Trap
 are great for the beekeeper who wants a less invasive method of treatment. All of the items are available online.
Enjoy the break you get during August, but plan wisely! You want your hive to be strong as winter approaches. As always, let us know if you have any questions!