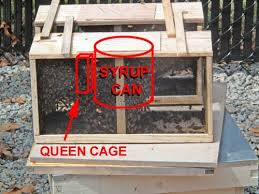 Well it is that time of year again...bee season is upon us! Here at the store we have all of the items you may need to start the season off right. We have everything from starting your hives to extracting your honey at the end of the season. Stop by our store or visit our website at www.pigeonmountaintrading.com to get the supplies you need.
Here are our anticipated pickup/delivery dates for bees: March 24, April 21, April 27, May 12, and May 27. As you know, weather can change, so we will contact those of you who have placed orders and let you know your EXACT pick up/delivery date.
Here's what to expect when it's time to get your bees:
Pick Up: 
 •  Arrive at 106 North Main Street to pay for the rest of your shipment or get a paid receipt from the  register.
 •  Once you have your receipt, go to the warehouse on Duke Street to pick up the bees.
 •  Once you pick up your bees, Pigeon Mountain Trading Company® is no longer liable for their well being.
Delivery:
•  We will contact you to get the remainder of your payment if you only paid your 50% deposit.
•  All bees will be shipped via United States Postal Service.
•  Once the USPS takes possession of the bees, Pigeon Mountain Trading Company® is not longer liable for their well being.  
•  All of our bees are insured with the USPS!! Should they arrive dead or damaged, do not accept the bees! File a claim at your Post Office; we will help you with all information you need to file this claim. 
 Sometimes customers ask that we file the claim for them -- we would if we could -- but only the addressee at the post office they were delivered to can file the insurance claim. That is beyond our control.
•  Customers say sometimes there are some dead bees in bottom of package. This will always be true. There are about 12,000 bees in a 3 lb. package. Average life of a worker bee is 42 days during summer months. This means about .0238% of the worker bees (about 285 bees) in the package will die each day of normal death as their life span has ended. Being in a package is much more stressful on bees  than their normal life in a hive, so the actual number will be higher. This is normal.
 Thank you to all of our loyal customers that keep bee season the busiest time of the year.